calling all artists!
The 7th Annual Sidewalk Festival, Detroit's most colorful and unique outdoor celebration of performance and installation art returns August 1-3, 2019. We are looking for new creative works of dance, music, performance art, installation, visual art and interactive workshops.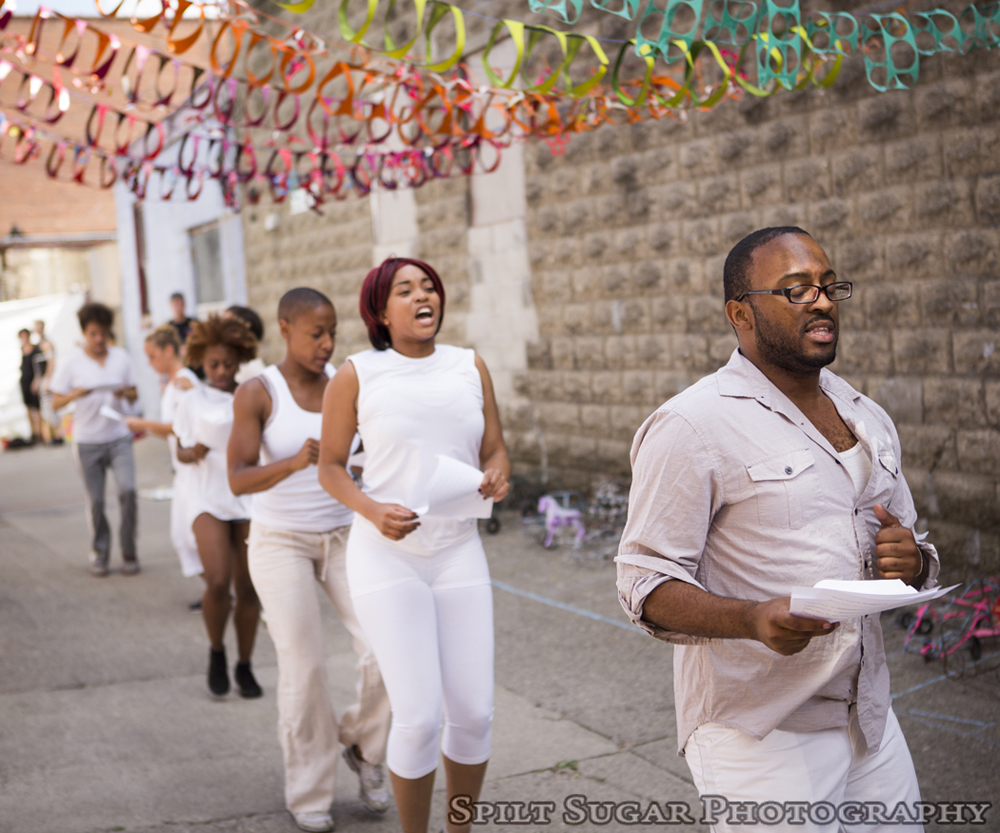 Sidewalk Festival supports the work of artists pushing creative boundaries. The festival is anchored in celebrating non-traditional performance spaces. The majority of presented work takes place on the street, in alleys, storefronts or the unique courtyards of the Artist Village, located on the Northwest side of Detroit.
Call for proposals opens Thursday March 28, 2019 and will close on Friday May 3, 2019.
Please read ALL of the information below before submitting your work.
the theme
This year's theme is PEACE POWER UTOPIA.
Artists are invited to explore concepts related to PEACE POWER UTOPIA. You may explore this topic as it relates to you personally, your community, the environment, societal systems and any number of other topics.
Questions about this theme that you might consider to get started:
How can we re-imagine the future? What does a Detroit utopia look like? How do systems of power influence your life? Where does your power live in your body? What does peace look like to you? What prevents peace in your community? To what extent does utopia transcend power?
These questions can be explored in a multitude of ways and need not be a literal interpretation.
the space
Sidewalk Festival rarely uses traditional stages.
View pictures of each location, their dimensions and their technical parameters by clicking the link below. Each proposal will be required to request at least one specific space to show their work in, and can specify first, second and third preference.
If your work is selected you will be required to do a site-visit.
We value the environment we are working in and seek to present artists who wish to dive deep with community and spatial interactions.
2019 Sidewalk Festival spaces include:
The Alley
The Alley Stage
The Street (Lahser between Grand River & Redford)
The Large Courtyard
The Small Courtyard
The Artist Village Theater
Entryways - at Lahser & Grand River, at Lahser & Redford, at alley
Under Redford Theater marquee
2019 Sidewalk Festival Storefront spaces include:
Shoes & Repair
Java House
Blight Busters
Sweet Potato Sensations
Lahser Sew & Vac
proposal criteria
Submitted Proposals will be evaluated on the following criteria:
Does the proposed work relate to the festival's theme?

Does the proposed work chart innovative creative territory?

Does the proposed work respond to the festival location/s?

Does this work relate to the neighborhood/culture/audience of the site?

Do this bio/artist statement and work samples indicate artistic excellence?

Does this proposal align with Sidewalk's larger values to support the voices of Detroiters, Black women, LGBTQIA, differently abled or intergenerational artists?
Important Notes:
Sidewalk Festival is a playground for experimentation. Presented works can be "in-progress" or complete.
Project support is provided for approximately 30-40 projects to seed experimentation and new ideas with preference to projects of at least 30 min.

Project Support for Performances and Workshops: Project support will range per project from $350 (for example: short, 1-2 person experiments) to $1,500 (for example: large ensemble, new experiment) and is further determined by complexity of project, number of performers, stage of project's development, premiere status etc. 20-30 performance and workshop proposals will be selected for project support.

Project support for Installations, Murals and Sculpture: Project support will range per project from $1,000 - $3,000 and is determined by scale and complexity of project, material expenses, construction and build out costs, etc. 5-10 projects will be selected for project support.
Applications will open Thursday March 28 and close on Friday May 3rd.